Year of Amoris Laetitia (The Joy of Love)

The Diocesan Speaker Series is the highlight of the Year of Amoris Laetitia Family. It will feature a monthly topic related to family from January through to June, held virtually on Zoom. The topic covered each month is open to all; you are welcome to join one particular evening, all the evenings, or any number that interest you.
Family sets the foundation for faith and for the good of society, yet the strains of family life can sometimes leave many feeling stressed. As a result, we are seeing cracks in the very foundation of family. In Amoris Laetitia, Pope Francis writes: "The Synod process allowed for an examination of the situation of families in today's world, and thus for a broader vision and a renewed awareness of the importance of marriage and the family. The complexity of the issues that arose revealed the need for continued open discussion of a number of doctrinal, moral, spiritual, and pastoral questions (2)." Our speaker series is designed to be educational and uplifting to provide support for each person on their journey. The series is a great opportunity to learn more about oneself, but, as importantly, to take part in and become familiar other members of the Diocesan family.
Speakers will be highlighted on this page as they are confirmed, so check this page regularly for updates!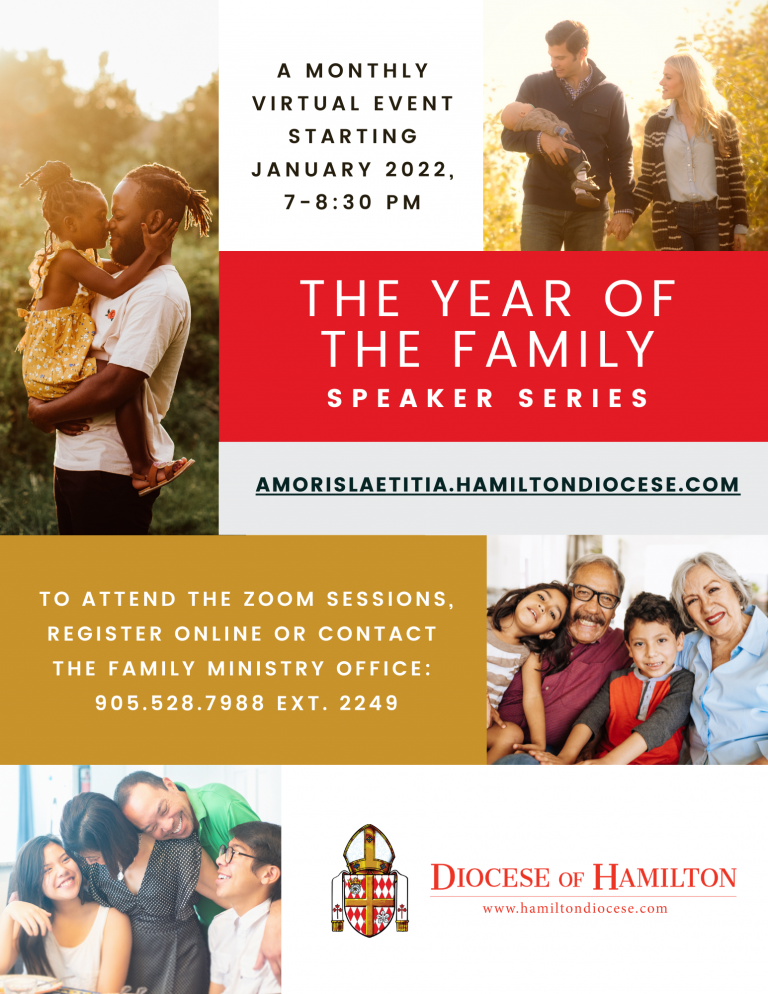 Dates, Topics and Session Videos

Online registration available after each topic.
Topics and dates for March to June coming soon.
January 12, 19 and 26, 2022 from 7:00-8:30 PM
The Joy and Struggles of Family: Revealing the Wisdom in Pope Francis's Amoris Laetitia
Bishop Wayne Lobsinger (Auxiliary Bishop of the Diocese of Hamilton) will be joining us on January 12th and 19th, and Mrs. Teresa Hartnett (Director of Family Ministry, Diocese of Hamilton) will lead on the 26th.
February 16, 2022 from 7:00-8:30 PM
The Witness of Faith in the Home
Connie Clark is the author of numerous books, booklets and articles for parents, catechists, teens and kids. Sharing engaging personal stories, encouragement, and practical ideas, Connie helps families recognize their beautiful, vital role in the Christian community and in the family of God. She will focus on these four guidelines from the Directory of Catechesis that parents/grandparents/teachers/aunts and uncles can use to guide their families as they grow in faith: Awaken the sense of God; Take first steps in prayer; Form consciences; Understand Christian love as a reflection of God's love.
Connie is a graduate of Loyola Marymount University and serves as a volunteer catechist and confirmation leader for her Catholic parish in Southern California. She is the editor of Living Faith Kids Daily Catholic Devotions, published by Bayard. Some of her recent books include: The Witness of Faith in the Home: Celebrating the new Directory for Catechesis, Pep Talks for Catholic Parents, and Make Us a Home for All: Prayers for Accompanying Parishes.