Year of Amoris Laetitia (The Joy of Love)

The Diocesan Speaker Series was the highlight of the Year of Amoris Laetitia Family. It featured a monthly topic related to family from January through to June, held virtually on Zoom. 
Family sets the foundation for faith and for the good of society, yet the strains of family life can sometimes leave many feeling stressed. As a result, we are seeing cracks in the very foundation of family. In Amoris Laetitia, Pope Francis writes: "The Synod process allowed for an examination of the situation of families in today's world, and thus for a broader vision and a renewed awareness of the importance of marriage and the family. The complexity of the issues that arose revealed the need for continued open discussion of a number of doctrinal, moral, spiritual, and pastoral questions (2)." Our speaker series is designed to be educational and uplifting to provide support for each person on their journey. The series is a great opportunity to learn more about oneself, but, as importantly, to take part in and become familiar other members of the Diocesan family.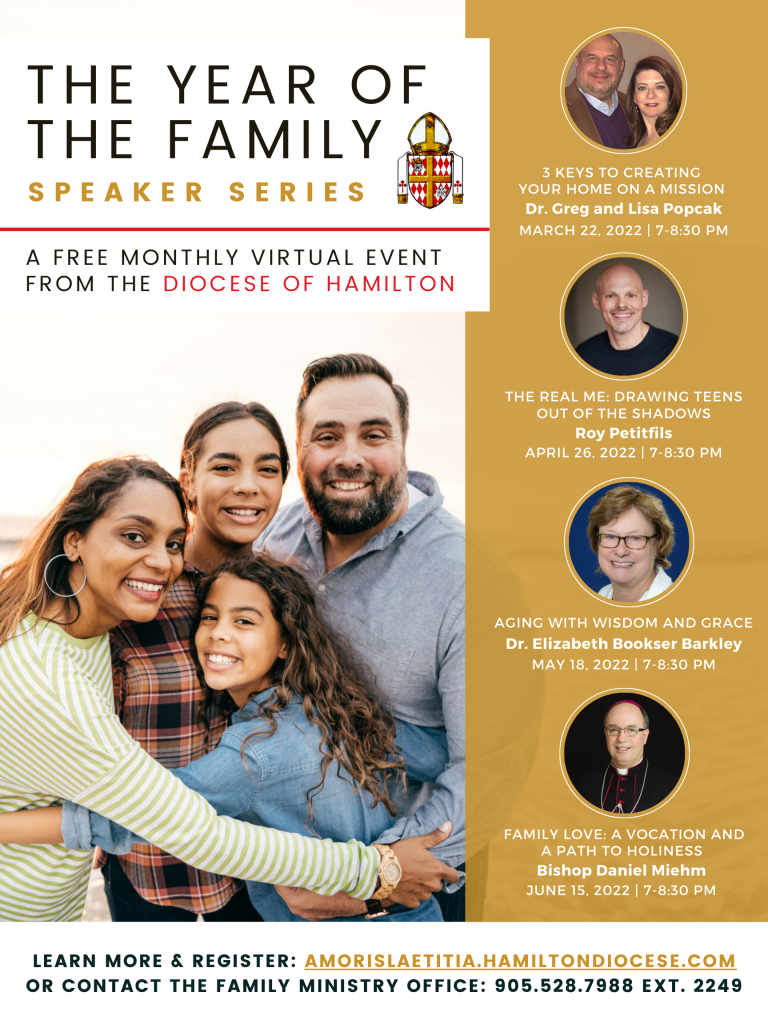 Dates, Topics and Session Videos
January 12, 19 and 26, 2022 from 7:00-8:30 PM
The Joy and Struggles of Family: Revealing the Wisdom in Pope Francis's Amoris Laetitia
Bishop Wayne Lobsinger (Auxiliary Bishop of the Diocese of Hamilton) joined us on January 12th and 19th, and Mrs. Teresa Hartnett (Director of Family Ministry, Diocese of Hamilton) led the session on the 26th.


February 16, 2022 from 7:00-8:30 PM
The Witness of Faith in the Home
Connie Clark is the author of numerous books, booklets and articles for parents, catechists, teens and kids. Sharing engaging personal stories, encouragement, and practical ideas, Connie helps families recognize their beautiful, vital role in the Christian community and in the family of God. In her session, she focused on these four guidelines from the Directory of Catechesis that parents/grandparents/teachers/aunts and uncles can use to guide their families as they grow in faith: Awaken the sense of God; Take first steps in prayer; Form consciences; Understand Christian love as a reflection of God's love.


March 22, 2022 from 7:00-8:30 PM
3 Keys to Creating Your CatholicHOM (Household on Mission)
Presenters: Dr. Greg and Lisa Popcak
What does it take to create a happy, holy family life?  Is that even possible these days? It is! Discover simple, practical ways you can create a more joyful, peaceful family life, encounter Christ more meaningfully at home, and experience your faith as the source of warmth in your home. God loves your family and has an amazing plan for your lives together.  Discover how to celebrate that plan as you build your CatholicHOM!


Dr. Greg and Lisa Popcak are the creators of CatholicHOM (CatholicHOM.com) a dynamic online community that trains and supports Catholic families in becoming everything God created them to be.


April 26, 2022 from 7:00-8:30 PM
The Real Me: Drawing Teens Out of the Shadows
Presenter: Roy Petitfils
Roy Petitfils has spent his life helping teens so they will not feel invisible and will provide insights into how parents/teachers/parish staff/others can help ensure no child ever feels this way. He will also provide practical and experiential antidotes on how to assist teens to feel empowered, supported and strong enough so they can come out of the shadows and thrive in their lives.
Roy Petitfils is an internationally recognized expert in understanding and raising teenagers. He is a therapist at Pax Renewal Center in Lafayette, Louisiana. He holds a Masters in Mental Health and School Counseling from the University of Louisiana, Lafayette. Roy is an internationally sought after speaker who uses humor, passion, clinical and life experience to help adults connect with teens and teens to know, understand and love themselves.
He has authored, What Teens Want You to Know (But Won't Tell You), A Practical Guide to High School Campus Ministry (St. Mary's Press, 2007), What I Wish Someone Had Told Me About the First Five Years of Marriage (St. Anthony Messenger Press, 2010) and God Wears Running Shoes: Spiritual Reflections for Those Ministering to Young People (2009).
May 18, 2022 from 7:00-8:30 PM
Aging with Wisdom and Grace
Presenter: Dr. Elizabeth Bookser Barkley


Using her own experiences and the wisdom of her contemporaries, Dr. Barkley will explore some of the physical, emotional and psychological issues we face as we age. The presentation will be interactive, challenging participants to reflect on their own aging journey. Pope Francis has repeatedly spoken of the importance of the elderly in our society, join us to embrace this important stage of life.


Dr. Elizabeth Bookser Barkley, Ph.D., is a professor of English at Mount St. Joseph University in Cincinnati, Ohio. She is the author of four books, including Life After Death: Practical Help for the Widowed, and numerous feature articles. She is married, the mother of three daughters and the grandmother of seven.


Session 7 (No longer available)
June 15, 2022 from 7:00-8:30 PM
Family Love: A Vocation and A Path to Holiness
Presenter: Bishop Daniel Miehm (Bishop of Peterborough)
Through the life of the family and the love shared by its members, children learn about themselves and the seeds of their vocation are born. Every person is called to live in their family knowing the family itself is a call to an important vocation. Parents and children find their path to holiness with the vocation of the family.


His Excellency, the Most Reverend Daniel J. Miehm, was appointed Bishop for the Diocese of Peterborough in March of 2017.  Bishop Miehm has served as the Auxiliary Bishop of Hamilton since 2013 and was installed as the 13th Bishop for the Diocese of Peterborough in April.